---
---
Brad joined the North American Purchasing Division of Honda of America Mfg., Inc., in March 2000. He spent two years in strategic planning in the Planning & Administration Group, where he developed and managed the supplier "Early Warning System" for which he received a patent.
In January 2002, he moved to the Supplier Support Team where he was responsible for Honda's North American supplier "Circle Assistance Network" (CAN). CAN is a network of over 220 Honda parts suppliers in North America, regionally organized, who regularly meet to grow and strengthen quality circle and suggestion program activities.
Brad moved within the NAT Division to the Supplier Development Team in 2009. There he conducted supplier performance audits of key strategic parts suppliers throughout North America and served as an in-house consultant to those suppliers to improve supplier performance characteristics in Management and Human Resources.
In 2013, he returned to the Supplier Support Team as it merged into Honda North America, Inc. He currently leads OEM supplier HR leader networks in the US, Mexico, and Canada. These Supplier Associate Relations Groups (SARG) meet bimonthly to strengthen the human resource performance at their respective operations.
Prior to joining Honda, Brad spent 18 years starting-up and managing two transplant Honda supplier companies in Ohio. He also spent three years in the State of Ohio Development Department International Trade Division, where he worked to attract Japanese companies to the State of Ohio and assist Ohio companies exporting to Japan and China.
Brad has a BA in East Asian Studies and Economics from Wittenberg University and has done graduate work at the Capital University Law School and the Ohio State University. He and his wife Faith are the proud parents of four daughters and are active leaders in their church and the community.
Patrick's Bio Coming Soon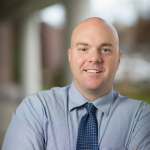 Being an Army brat growing up has huge advantages that others do not get to experience. I had the opportunity to live in Europe for a few years, lived on the west coast and in the south. I graduated from Western Kentucky University (Go Big Red!) where I received my bachelor's degree in Graphic Design. I have worked as an intern at Western in the public relations department, district graphic designer for ARAMARK and now with Honda North America.
I have a son that absolutely cracks me up and a wife that should be a saint for putting up with me!
My favorite things to do when I'm not hanging out with my family would be playing golf, and here recently I have taken up CrossFit.
Abby was born and raised in Central Ohio, received a Business Degree from Ohio Dominican University (in Central Ohio) and now resides in Dublin (also in Central Ohio). She has always been a people pleaser working in Customer Service, and Marketing before landing at Honda. Always with a smile on, Abby is here to help.     
Nothing too exciting here, Abby's favorite past-times are walking around town and drinking coffee with her husband Alex, or sitting in the sun with a canvass and some paints.